2. may 2013 / Patrik Elias on the 2013 Season and his Future in Hockey
After reaching the Stanley Cup Finals last year, the Devils are absent from the playoffs for just the second time since the 1995-1996 season due to an inconsistent and injury ridden campaign. While battling for position late in the season, the team took an uncharacteristic ten-game winless slide and couldn't recover in time. Now, with star goalie Martin Brodeur nearing the end of his career and with several key players heading towards free agency, the team's future is as uncertain as ever.

One question mark this offseason will be unrestricted free agent Patrik Elias who has played his entire career in the black, white, and red jersey. Patrik already holds the franchise record for goals (375) and points (930) as well as game-winning goals (74), and if this year's numbers are any indication, he still has plenty of fuel left in the tank. What that means for his future with the Devils however remains up in the air. As a 17-year veteran, Patrik understands full well that business is business, but when it comes down to making his own decisions, he has always considered other factors.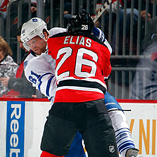 "It all comes down to being happy," he said. "You want to enjoy your time playing the game while you still can. Having a chance to win is always important and of course playing for a great coach is a big factor too."

When discussing his current head coach Peter DeBoer, Patrik left nothing to doubt.

"I said this last year and nothing has changed: he (DeBoer) is one of the best coaches I've played for in my career. It's the way he handles himself, his attitude, and the way he approaches the game. He's awesome."

This year, former Devil Scott Stevens, who captained the Devils through all three of their Stanley Cups (two alongside Patrik), joined the team behind the bench as an assistant coach. Patrik said it was fun being reunited with his old teammate.

"He's the same way he was when we played together years ago. He wants to win badly. He's still an intimidating guy, especially for the younger players, but I was able to joke around with him a bit since we have a history together. When he gets involved in practice he still has that same intensity. It's like he could still be playing."

Patrik played in all 48 games of the shortened season, racking up 36 points (14 goals and 22 assists), which was good enough for first on the team. He led Devil forwards with a plus-five rating and had eight multiple-point games including four three-point efforts. He also logged key minutes on the penalty kill and on the first unit of the power play. When assessing his own performance however, Patrik put the team first.

"Overall I was healthy both mentally and physically, but individual numbers don't mean anything if the team doesn't win," said Patrik. "You look back on the year and still wish you could have done more to help the team, especially when we were struggling during that ten-game slump."

Patrik also doesn't believe that the team's final point total (48 with a 19-19-10 record) doesn't tell the full story of how the team performed on the ice.

"We played good hockey. A few bounces here and there and it's a different story. Obviously we had some difficulty closing out a few games when we gave up leads late, but the effort was there. That's something the numbers don't show."


While the Devils won't be able to replicate last year's deep playoff run, it appears that their fan base has burgeoned since reaching the Stanley Cup Finals. After years of below average attendance, fans are finally making the Prudential Center a difficult place to play in for opposing teams. Attendance at the rock hit an average of 97.1 capacity in 2013, an impressive feat considering the shortened season and the fact that their highest average at the Rock coming into this year was 87.4 in 2011-2012. Patrik says the team definitely noticed the difference.

"Knowing that you have that many fans that are always there to support you is nice. Almost every game (this year) was a sell-out. I can remember Ranger and Flyer games a few years back that were split between our fans and theirs, but more and more Devil fans are coming out and rallying for us. It's great, but it also makes missing the playoffs even more disappointing because we wish we could be playing more games for them."

Many Devil fans are hoping they haven't seen the last of #26.

Summer Plans

Aside from dealing with contract negotiations, Patrik says he will take some time this summer to head back home to the Czech Republic to see his family and hopefully catch some soccer games. He and his wife Petra also plan on taking their daughter to Disneyland.

"It's her first time so it's really exciting," said Patrik.

(Dan Altano)

→ Patrik's goal of the season