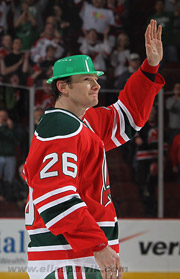 PATRIK ELIAS BACK TO TOP FORM
It has been a season of redemption and milestones for Patrik Elias. Since recovering from two offseason surgeries that sidelined him for the first thirteen games of the year, Patrik continues to rack up points as the Devils sit atop the National Hockey League. ### Just weeks after reaching the 300-goal plateau in a 4-1 win over the Flyers on December 12, 2009 he was named Captain of the Czech Republic Olympic Team for the 2010 Winter Games in Vancouver. Patrik was a part of the 2006 Czech Olympic team but bruised his ribs in the first game and was unable to continue on as his team took the bronze medal. Patrik is the highest active Czech point getter in the NHL and is zeroing in on former teammate Bobby Holik's 747 points for second all-time among Czech players. In August, the Czech media honored him with the Golden Stick Award which each year recognizes the best hockey player in the country. (Dan Altano)
2.1.2010 | PATRIK ELIAS HAS THREE ASSIST NIGHT IN 5-3 WIN IN MINNESOTA
Hard work paid off as Patrik Elias picked up assist numbers 14, 15 and 16 in a 5-3 win over the Wild on Saturday night in Minnesota. Saturday's performance...
more >
31.12.2009 | PATRIK ELIAS BACK TO TOP FORM
It has been a season of redemption and milestones for Patrik Elias. Since recovering from two offseason surgeries that sidelined him for the first thirteen...
more >
31.12.2009 | ELIAS HONORED TO CAPTAIN CZECH TEAM
PATRIK ELIAS spoke to NHL.com about being named capitan of the 2010 Czech Olympic Team before Wednesdayś contest in Pittsburgh.The tournament begins in Feb 16...
more >
11.1.2010
The Devils lost their postponed game against the Tampa Bay 2 - 4.
9.1.2010
The Devils beat the Canadians in overtime 2 - 1.
8.1.2010
Postponed game between the Tampa Bay Lightning and New Jersey Devils at Prudential Center in Newark, N.J., will resume Sunday, Jan. 10, at 6 p.m., ET.