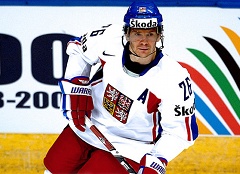 Patrik Elias first wore the national jersey for the Czech Republic when he was eighteen. In 1994 he played in the European Juniors Championship. His first game for the seniors was on May 12, 1998 in the semifinal of the World Championship against Finland.
Among his successes on the national team are bronze medals from the World Championship held in 1998 in Switzerland, the 2006 Olympics in Turin and the World Championship 2011/Slovakia.
Patrik Elias was named captain of the 2010 Czech Olympic Team.
STATISTICS
Season
Event
GP
G
A
PTS
1994
Junior European Championship
5
2
5
7
1998
World Championship (Zurich/Switzerland)
3
1
0
1
2002
Olympic games (Salt Lake City/USA)
4
1
1
2
2004
World Cup
5
3
2
5
2006
Olympic games (Turin/Italy)
1
0
0
0
2008
World Championship (Quebec/Canada)
7
6
3
9
2009
World Championship (Zurich/Switzerland)
→ News archive
3
2
0
2
2010
Olympic games (Vancouver/Canada)
5
2
2
4
2011
World Championship (Bratislava/Slovakia)
9
4
5
9