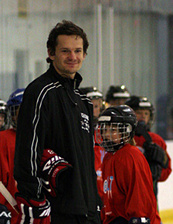 Since 2006 Patrik Elias has organized a summer hockey school in the Ice Vault Arena, Wayne, New Jersey.
The school is for young hockey players, ages 6 to 18, who want to hone their hockey skills under the tutelage of Elias and other experienced trainers, whom he has carefully selected for his team.
The school's program is founded on Elias's belief that it is essential for young hockey players to play various kinds of sports, because each sport develops a person's physical and mental abilities. As a result of this combination, there is a fundamental improvement in each young player's hockey skills. Every day there are two training sessions on the ice and one training session on turf, as well as accompanying sporting activities such as stretching, football, ball games and even broomball (ice hockey without skates), and other programs such as videos, talks, autograph signings, etc. The hockey school is a great experience for the young hockey players, which is testified to by the number of players that come back to the Ice Vault Arena every year.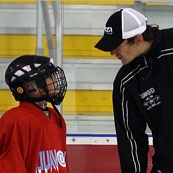 "Patrik's school is brilliant and to have the opportunity to train with him on the ice was amazing," said one of the young hockey players who was attending hockey school for the second time this year.
Patrik's summer hockey school held each year in the Ice Vault Arena in Wayne, New Jersey will not be running during the 2009 offseason. Patrik would like to assure his students that he looks forward to continuing the project in 2010 and beyond. Patrik is also currently working on establishing a youth hockey program in Europe.