16. november 2009 / PATRIK ELIAS GETS TWO ASSISTS IN A 3-2 LOSS TO PHILADELPHIA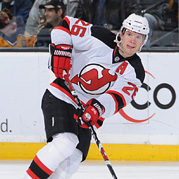 The winning streak has ended at eight and the unbeaten road record has ended at nine, but Patrik Elias has picked up his first points of the 2009-2010 season, assisting on both New Jersey goals in a 3-2 loss to the Flyers on Monday night.

Patrik's first assist came at 15:42 of the second period with the Devils trailing 2-0. While playing the point on a five-on-three powerplay, Patrik threw a tape to tape pass over to Zach Parise below the right circle who found David Clarkson in front for a one-time finish.

The Czech star's second assist came with less than a minute left in the game. Trailing 3-1 with Brodeur pulled, Patrik took two shots in front but was unable to get the puck past Flyer's goaltender Ray Emery. Zach Parise followed up on a loose puck with a scrum of players in front of the net and chipped it in. The goal was too little too late as the Devils fell to the Flyers for the second time this season. (Dan Altano).