30. november 2009 / PATRIK ELIAS FINDS HIS SCORING TOUCH AS THE DEVILS SUCCEED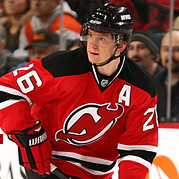 Patrik Elias has exploded for three goals and seven assists in his last six games and has helped propel the Devils near the top of the Eastern Conference despite injuries to key players.

After racking up five assists in his first seven games back, Patrik made his first goal of the season count. His redirection of an Andy Greene point shot late in the second period of Wednesday's match with the Ottawa Senators turned out to be the game winner as the Devils went on to win 3-1. As Patrik celebrated the goal, MSG announcer and former Devil "Chico" Rech exclaimed "Welcome back Patrik Elias!" during the broadcast.

On Saturday the Czech star caught fire with his second career 4-point performance (2g, 2a) to help his team romp the New York Islanders 6-1.

Patrik's got his first assist just under a minute into the second period with the Devils down 1-0. On a faceoff in the Islander's zone, Patrik won the draw back to Mike Mottau who drove down the right wing and centered a pass in front intended for Captain Jamie Langenbrunner. The puck instead deflected off of a defenseman in front and went in.

His second assist came at 12:06 of the second while the Devils had the man advantage. Langenbrunner gathered the puck at the point and found Patrik who was sneaking down to the bottom of the left circle. Patrik peeled up at the post and centered a tape-to-tape pass to Brian Rolston and he buried it to give the Devils the 2-1 lead.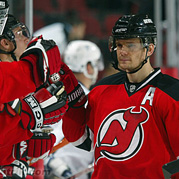 Patrik's powerplay production continued into the third period and this time he was the one to light the lamp. With a five-on-three advantage, Rolston slid a pass over to Patrik at the high slot and he fired a one-time slap shot that sailed in over the blocker of Islander goaltender Martin Biron. Patrik then added the nail in the coffin with just 45 seconds left. Rolston intercepted an Islander breakout pass in the neutral zone and hit Patrik in stride as he crossed the blue line. Patrik wasted little time once he gained the zone and shot a quick wrist shot past Biron to give the Devils the decisive 6-1 lead. He and Rolston combined for a total of eight points as their chemistry continues to be a key factor in the team's recent success. (Dan Altano)