12. december 2009 / PATRIK REACHES THE 300-GOAL PLATEAU IN 4-1 WIN OVER FLYERS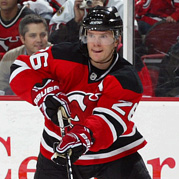 The milestones continue to rack up for Patrik Elias. On Saturday night in New Jersey, Patrik scored his 300th career goal and then added another to help the Devils defeat the Philadelphia Flyers for the first time this year. The Czech star now has 15 points (6g, 9a) in his first 17 games this season despite still feeling soreness from offseason injuries that sidelined him for the first 13.

Patrik's 300th came at 15:47 of the first period with the Devils up 2-0 compliments of a pair of goals from rookie forward Niclas Bergfors. Vladimir Zharkov fought off a defender along the boards and threw a backhand pass over to Patrik in the high slot who ripped a quick wrist-shot over the left shoulder of goaltender Brian Boucher. In a first period intermission interview with MSG announcer Stan Fischler, Patrik joked that he was so excited that he almost retrieved the puck from the net himself.

After the Flyers made it 3-1, Patrik added the icing on the cake by flying down the left wing and connecting on a tape-to-tape pass from Brian Rolston for his sixth of the year at 19:26 of the second. He is now riding a four game points streak (3g, 2a) and has a +5 rating.

Over the years, Patrik has excelled when playing the Flyers. He now has 61 points (26g and 35a) in 61 career games against the Atlantic Division rival. (Dan Altano)

See youtube.com.