16. april 2010 / THREE ASSISTS FOR PATRIK ELIAS LIFTS DEVILS OVER FLYERS IN GAME 2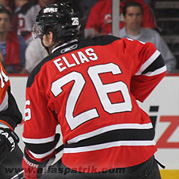 PATRIK ELIAS racked up three assists, including one on the game winner, as the Devils beat the Flyers 5-3 on home ice to even their Eastern Conference Quarterfinals series 1-1. After failing to register a point in Wednesday's 2-1 series opening loss, Patrik didn't wait long to make his mark on Game 2. With the Devils shorthanded early in the first, Patrik pounced on a loose puck at his own blueline, skated to center, and tossed a smooth saucer pass ahead for Zach Parise, who took it in all alone on Brian Boucher and beat him upstairs with a backhand shot. Patrik played a vital role in killing off five of seven Flyers' powerplays throughout the night.


It was a Devils' powerplay however that gave Patrik his next chance to send the sold out Prudential Center crowd into a frenzy. With under seven minutes to go in the second period, with the game tied 2-2, Patrik received the puck from Ilya Kovalchuk outside the left circle, and threw a hard pass into the slot which Andy Greene one-timed into the back of the net to give the Devils the lead. The Flyers would get even in the final minutes of the second to set up a riveting third period.


When the teams were at full strength, Patrik played most of the game on a line with Zach Parise and Dainius Zubrus. It was this line's hard work and chemistry that led to the game-winning goal. After surviving an early Philadelphia onslaught in the third, the line went to work in the corners, putting relentless pressure on the Flyers until they broke through with 4:04 left in regulation. Patrik got the play started by throwing a no-look backhand pass behind the net for Zubrus who barreled his way in front and sent the puck into the crease. Parise and Zubrus both whacked at the loose puck at the exact same time and beat Boucher up high to take the 4-3 lead. After review, Zubrus was credited with the goal with assists from Parise and #26.

Ilya Kovalchuk would add an empty netter in the final minute of play to close off the Flyers. Patrik, who was named as the game's second star, logged almost 20 minutes of ice time.

Game 3 will be held in Philadelphia on Sunday.

(Dan Altano)