10. october 2008 / Patrik Elias's trip to Belize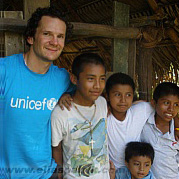 In September Elias, as the Czech Republic's Good Will Ambassador to UNICEF, visited the Central American state of Belize where UNICEF has a number of programs to support poor and sick children. The aim of the trip was, among other things, to see how UNICEF works on the ground and how UNICEF's financial resources are used in those places where help is necessary. 

"I am glad that I had the opportunity to see for myself how and where the aid goes and the work UNICEF does in these areas with these programmes," Elias stated upon his return from Belize.