16. october 2008 / One more assist and Patrik Elias breaks the record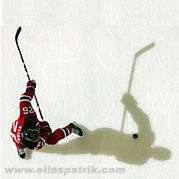 One more assist and Patrik Elias is the club's new record-holder. In his thirteen seasons with the Devils Elias has already made 364 assists. He tied the current record held by the defender Scotty Niedermayer last season on April 1, 2008 in a match against the NY Islanders. The game against the Islanders went well for Elias, he assisted in the winning goal from Zach Parise and also scored a goal. The record may well fall on Thursday or Friday when the Devils are back on the ice in Atlanta. One more assist pushes Elias ahead of his former team-mate. As a point of interest, Elias's first assist in the NHL came on December 5, 1996 in his second match of the season and just two days after having been called up from the farm team in Albany. He made the assist to Robert Hol?­k, who scored the winning goal in a match against Calgary (2-1). "It's a great feeling," was the brief comment from Elias. December's mission was a breakthrough for Elias. It was a week later, on December 12, 1996, that he got his first goal in the NHL. In that match against Boston his assists helped the Devils win 7-4.

Somewhat symbolically, they presented Robert Hol?­k as a precise goal scorer. "I had a great evening thanks to Robert," were Elias's words from that evening almost twelve years ago.

Elias also has the opportunity to pass another New Jersey milestone. To beat the record for total number of career goals he needs just another 81 (347 - John MacLean), and only another 71 points to beat the record for points (701 - John MacLean).