17. march 2009 / AN INTERVIEW WITH THE DEVILS STAR: PATRIK ELIAS BREAKS ALL-TIME POINTS RECORD
Patrik Elias threw his fist in the air after Brian Gionta connected his tape-to-tape pass while shorthanded Tuesday night in New Jersey, the all-time franchise points record is finally his. His 702nd point came in the second period of the Devil's 3-2 win over the Chicago Blackhawks. He was named the second star of the game and received a huge ovation from the Prudential Center crowd when his name was announced. Patrik has etched his name into Devil's history with ten consistent seasons and countless highlight reel worthy performances to back it up. Patrik took some time out to talk about reaching the Devil's all-time points record, reflect on his career and discuss the current season.

Q: What does it mean to you to have beaten this record?

Patrik Elias: It means a lot. I have been lucky over the years to have great coaches and be a part of some great teams.

Q: How did your teammates react?

Patrik Elias: They were really excited for me.

Q: Did John Maclean say anything to you when you beat the record?

Patrik Elias: He gave me knuckles on the bench. We had been joking around about me getting the record in the last few weeks, he was great about it.

Q: What does it mean to have beaten the record of a player who has been such a key member of this franchise for so many years?

Patrik Elias: I remember back in the 96-97 season when I first came to training camp as a young guy who didn't speak much English and they put me on a line with John Maclean and Neil Broten. I think I would have been nervous playing with anyone on that team, but playing with two players who were so experienced and such big parts of the team made it that much more special. I think it's great that my experience with the Devils began that way.

Q: There have been so many memorable moments in your career, how does this rank?

Patrik Elias: I think this record is something I will appreciate a lot more when my career is over. When you play each year the important thing is your team succeeding and the personal achievements come second. It is a great feeling though to have this record, something I could have never imagined when I first came to New Jersey.

Q: Did your family get to watch you beat the record?

Patrik Elias: Yes, my wife, my brother and his girlfriend and my grandfather watched the past two games on television. During both games my grandfather fell asleep in the third period which proved to be a good luck charm.

Q: In some points in your career you had the chance to leave for more money during free agency. Why did you choose to stay with the Devils all of these years? What is it about this franchise that makes players want to stick around?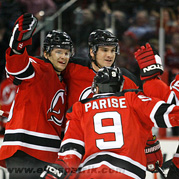 Patrik Elias: There were opportunities to leave for more lucrative offers over the years, but to me the winning experience is what's most important. Since I have been with the franchise I have never missed the playoffs. I think what happens is, you see the older guys ahead of you stay each year and you get to understand the meaning of tradition. Loyalty is a characteristic to appreciate anywhere. I think the younger guys now like Zajac and Parise see this too and it's great for the franchise.

Q: It seems that when the guys in the locker room talk about the team this season they keep using the word "special." What is it about this year's squad that seems so special?

Patrik Elias: I think a lot of people around the league started asking whether or not we would be able to succeed without the greatest goalie in hockey and we really pulled together and played good hockey. I give a lot of credit to our goaltenders (Kevin Weekes and Scott Clemmensen) for playing so well during that time. I think because of the challenges and injuries this season it has helped us get tighter as a group. At this point, we really feel like we can beat anybody in the league if we just play our game.

(Interview by Dan Altano)