21. april 2009 / LAST SECOND SHOCKER SPOILS IMPRESSIVE COMEBACK IN GAME FOUR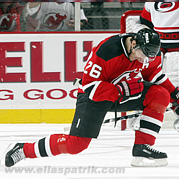 Late in the second period of Tuesday's Game 4 contest between the New Jersey Devils and the Carolina Hurricanes, the visiting Devils had their backs against the wall facing a 3-0 deficit and an overwhelming Carolina attack that was running on all cylinders. That is, until a sharp breakout pass from defenseman Mike Mottau sent forward Brian Gionta flying down the left wing into the Carolina zone all alone. The speedy winger ripped a snapshot past Carolina goaltender Cam Ward with 28 seconds left in the period. The goal swung the momentum in New Jersey's favor as they would tack on two unanswered goals in the third period (Brendan Shanahan at 4:21 and David Clarkson at 8:46) to tie the game 3-3.

The two teams seemed destined to be heading to overtime for the third consecutive game in the series until Carolina's Jussi Jokinen tipped a shot from Dennis Seidenberg into the net with 00.2 seconds on the clock to win it for Carolina. A video review confirmed the buzzer beater and despite a challenge from goaltender Martin Brodeur who was nudged off balance by Jokinen in front before Seidenberg's point shot, the goal stood and the series is now tied 2-2.

Patrik Elias, who threw six shots on net and logged over 17 minutes of ice time, said after the game that Carolina had made a few tactical changes before game 4 and the Devils were unable to adequately react. One of those changes was the 46 shots Carolina put on net, most notably the 22 shots in the second period alone. The Devils had out shot Carolina in all three games before Tuesday.

"In the second period, greatly due to our penalties, we were unable to dictate the pace and create chances. In the third however, we started to play aggressively and managed to tie the game," said Patrik.

Patrik believes that the difference between winning and losing has a great deal to do with the team's mentality in pressure situations. "We played with caution and did not go for the victory once the game was tied," he added.

The series now returns to New Jersey for Game 5 on Thursday night at 7:30 p.m. (Dan Altano).