7. may 2009 / A LOVE OF HOCKEY AND COUNTRY:
PATRIK ELIAS EMBRACES THE INTERNATIONAL STAGE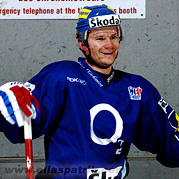 The stage is set tonight for a quarterfinal match between the Czech Republic and Sweden at the Ice Hockey World Championships. Patrik's love of hockey and his country could not be more evident as he prepares for tonight's important contest. While many of his New Jersey Devil teammates returned home after the team failed to reach the second round of the 2009 playoffs, Patrik decided to hop on a plane to Switzerland and fought off jet lag and fatigue from a long NHL season to join the Czech National team in the midst of the tournament. He got off the plane, suited up for a game against Slovakia, and scored a goal.

Patrik has scored twice in his two games with the team, sparking his squad to two decisive victories (8-0 over Slovakia and 3-0 over Belarus). He took a moment to discuss his experience with the Czech team thus far.

Q: What made you want to join the Czech team once your NHL season was over?

Patrik Elias: Even though we had a tough loss in the playoffs, I thought the best thing was to step back into playing hockey. It's fun to play a different style of hockey and it's great to have a chance to accomplish something more in hockey.

Q: What does it mean to you to be able to represent your country?

Patrik Elias: It's always an honor and privilege to play for your country.

Q: What's one of your favorite parts about playing on an international stage?

Patrik Elias: Just the atmosphere and the experience to play with your friends and represent your country.

Q: How is the style of play different in this tournament compared to the NHL? Did you have any trouble adjusting once you got there?

Patrik Elias: Playing with other great hockey players on an international stage can be a little different. The ice sheet is bigger so for creative players there is more room and time to show their skills so it did take me a couple of days to adjust, but I also had to adjust to the time change as well.


Q: You are known around the NHL as a great two-way hockey player who can score goals consistently but also knows when to get back on defense. Do forwards on the international teams share a defensive side to their game as well?

Patrik Elias: Yes we do. I feel like I know how to play any kind of game. I always try to read the game and play responsible and we have a lot of guys like that here.

Q: You scored a power play goal recently. Is the Czech power play strategy similar to the Devils?

Patrik Elias: I think we improvise more and really try to create high quality chances.

Q: What will you miss most about New Jersey in the off season?

Patrik Elias: My friends, eating at my favorite places like Divina and Cianci and shopping at Whole Foods. (Dan Altano)