16. august 2009 / KEEPING UP WITH PATRIK ELIAS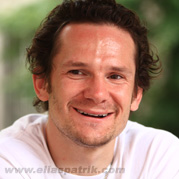 After undergoing a successful surgery on his hip in June to alleviate the groin problems he had at the end of last season, star forward Patrik Elias is back to top form and is training hard. Here is a quick look at what he has been up to this off-season.

June 2009: Patrik completed his rehabilitation stay in Vail, Colorado and returned to the Czech Republic for further rehab.

July 2009: While recovering, Patrik and his wife Petra enjoyed a week vacation in Southern France.

August 2009: Patrik began skating at HC Hvezda Ice Rink in Prague.

New Jersey Devils training camp will begin in mid-September and Patrik will be attending right on schedule.