25. september 2009 / A NOTEWORTHY OFF SEASON FOR NUMBER 26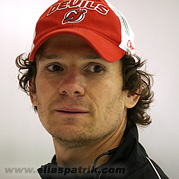 Long before the 2009-2010 headlines begin to roll in, NHL players are already hard at work preparing for their next opportunity to help their teams reach the ultimate goal. For New Jersey Devils star Patrik Elias, this off season has been an eventful and noteworthy chapter in his storied career as he gets set to return to the national hockey stage.

Coming off of a memorable 2008-2009 season where his 78 points (31 goals, 47 assists) landed him in the top 20 among NHL scorers and his 702nd career point on March 17, 2009 against the Chicago Blackhawks made him the all-time franchise leader in points, Patrik had much to be proud of despite his team's early departure in the first round of the 2009 playoffs. Still hungry to keep playing after the Devils were eliminated, Patrik caught up with the Czech National Team in Switzerland who were in progress in the Hockey World Championships. Patrik scored twice in two winning efforts before the team was eliminated in the Quarterfinals.

During the Summer, Patrik's accomplishments were recognized by his home country with the Golden Stick Award which signifies the best Czech hockey player of the year. "It was a great honor for me to be among so many great Czech hockey legends," said Patrik of his award. The MSG Network also honored Patrik by airing a 7-part mini series called "Patrik Elias: Rewriting Devils History," which recalled some of the most memorable moments of his career including his two Stanley Cups and his game winning goal that eliminated the Philadelphia Flyers in Game 7 of the Eastern Conference finals in 2000. "The individual recognition is great, but I owe so much of it to my teammates for supporting me." said Patrik.


On June 14, 2009, Patrik underwent hip surgery in order to relieve the discomfort he was feeling towards the end of last season. The surgery was a success and after completing a lengthy rehabilitation process in Vail, Colorado, Patrik returned to the Czech Republic to focus on his health and his charity work. As the Czech Republic's Good Will Ambassador to The United Nations Children's Fund (UNICEF), Patrik spends as much time as he can spreading the word about the organization.

Patrik also took a step forward in planning for his life after his playing career is over by obtaining a Level B coaching license in August. The license, which is mandatory for coaches in the Czech Republic, requires a written test, a week of class and some on ice activity. "Sitting in a classroom from 8 am to 7 pm is not exactly the ideal place to be during the summer," joked Patrik. "I did however learn a great deal of useful information about what goes into being a coach and it is opening up opportunities for me in the future," he added. Patrik hopes to continue his coaching studies next summer.

Although Patrik had been skating well during his rehab process, earlier this month some scar tissue was discovered in his groin as a result of past surgeries. Doctors were able to remove the scar tissue without any long-term complications, however the surgery has delayed his progress. Although he will miss the start of the season, Patrik is slated to return to full form by late October. Patrik remains positive and excited despite the recent setbacks. "After the surgery in June, skating actually felt much better than running or anything else did, so I am confident that I will be back at my best level," said Patrik. "I'm very focused on getting 100% healthy." (Dan Altano)