18. november 2009 / THE ROAD TO RECOVERY PROGRESSING FOR #26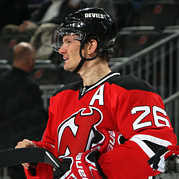 Two goals, three shots and over 19 minutes of ice time is usually nothing out of the ordinary for Patrik Elias, but Monday night's performance against the Philadelphia Flyers was a promising sign that the star forward is on his way back to full form after two offseason surgeries and a lengthy recovery process. Patrik took the time to answer some questions about his return to the team before boarding a flight to Nashville to face the Predators on Thursday night.

Q: What has your recovery process been like?

Patrik Elias: There have been good days and bad days. Getting to 100% will take some time, but I'm getting there. I had only skated with the guys for two weeks before I played my first game but the more you play the more comfortable you feel mentally and physically. I feel like I'm starting to read the plays better and my hockey sense is getting there too.

Q: Did getting those first two points on Monday give you a confidence boost?

Patrik Elias: No question it felt good and it is somewhat of a confidence builder to get those points, but for me my main focus is playing smart hockey whether or not that influences the score sheet.

Q: After only five games back you have already been put on the ice for clutch situations such as the last minute of the Flyer's game. Were you glad to be back in that role?

Patrik Elias: Yes, absolutely. I like being out there with the game on the line to help the team when it matters most.

Q: Now that you have played a bit with the team, what are your impressions of young forwards Niclas Bergfors and Matt Halischuk?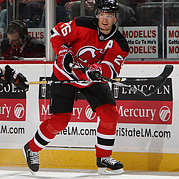 Patrik Elias: I'm really excited for them, this is a great opportunity and they are taking full advantage of it. I think they are surprising a lot of people with how well they are playing. It also says a lot about our organization. We have been able to stay successful despite injuries and we owe a great deal of that to our farm system.

Q: What are some characteristics of Jacque Lemaire's system that you like?

Patrik Elias: He has a very calm style of coaching. He emphasizes the importance of puck control and a lot of puck movement and it's nice to have that. He's also the type of coach who will change the line pairings sometimes in the middle of a game so you have to be ready to step into any position and be ready to contribute.

Q: What did you miss the most while you were injured?

Patrik Elias: The excitement of being out there. I have enough experience in this league to know that injuries are a part of the game, but it's nice to be back. I was excited to join the guys and be a part of this team. Most of all I'm just happy to be playing hockey which has been my dream since I was a little boy.

(Dan Altano)